Seclusion Room Padding for High Risk Patients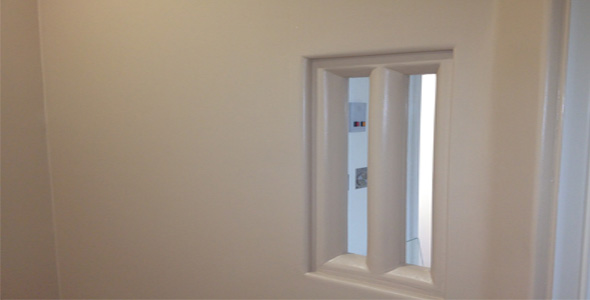 Seclusion Room Padding for High Risk Patients
Within the last week we have finished installing another Gold Medal Safety Padding seclusion room in a hospital in Dublin, Ireland. The brief for this project was to provide the facility with a room to safely house patients classed as 'high risk of self harm' and violent towards others, along with behaviours that frequently lead to destruction of their immediate environment.
Gold Medal Safety Padding; the specified safety padding product.
The Gold Medal Safety Padding was the specified material of choice from the very beginning of the project.  Gold Medal Safety Padding remains the only specifically made product available in the Irish & UK and European market for use in acute areas & seclusion rooms and out performs all other 'adapted' products in providing unrivalled safety for the user and value for money for the client.
Key points for the Health Service Executive (HSE).
Alongside the unrivalled level of protection offered from the Gold Medal product also of critical importance to the client were the highly durable, fire retardant and hygienic anti-bacterial properties of the material.
The features and benefits of Gold Medal Safety Padding are unsurpassed in the industry which is why GMSP has been specified so often by Architects and Quantity Surveyors, internationally for almost 40 years and will continue to be into the future.
Ordering Gold Medal Safety Padding.
As GMSP is a highly specilised product, coming from overseas, the client placed the order well in advance to allow for shipping times and the installation process. The installation of the materials took around 9 days and the installation was completed in time for the hand over of the facility to the client (Health Service Executive).
Seclusion Room Safety Padding Installation Process.
The photos above illustrate how the process of installing GMSP unfolds. Click photos to enlarge.
1. Prior to installation commencing (photos 1)
2. Installing of the GMSP Wall and floor sheets. (photos 2 & 3)
3. Covering the fixing points with a material to have the same flexibility as the surrounding padding & sealing padding. (photos 4-6)
4. Painting the room with the Gold Medal anti-bacterial paint finish. (photos 4-6)
Gold Medal Safety Padding Contact:
Click to download 15 page UK & Ireland brochure
Click to request genuine Gold Medal samples
For more information, photographs and technical drawings just visit our website or email Niall Clancy; niall@goldmedalsafetypadding.co.uk. We look forward to hearing from you.
Click to follow us on Linkedin: